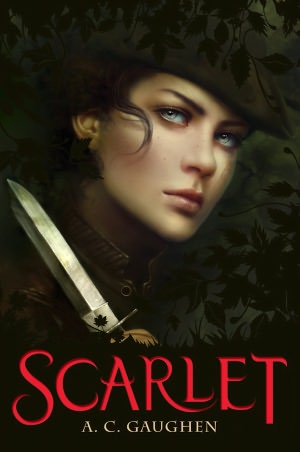 Many readers know the tale of Robin Hood, but they will be swept away by this new version full of action, secrets, and romance.

Posing as one of Robin Hood's thieves to avoid the wrath of the evil Thief Taker Lord Gisbourne, Scarlet has kept her identity secret from all of Nottinghamshire. Only the Hood and his band know the truth: the agile thief posing as a whip of a boy is actually a fearless young woman with a secret past. Helping the people of Nottingham outwit the corrupt Sheriff of Nottingham could cost Scarlet her life as Gisbourne closes in.

It's only her fierce loyalty to Robin—whose quick smiles and sharp temper have the rare power to unsettle her—that keeps Scarlet going and makes this fight worth dying for
(Synopsis provided by GoodReads)
As my second debut for the Debut Author Challenge, if found it as an amazing debut, but not an unforgettable book.
After i read the description of this book on GoodReads and before I read this book I imagined a romantic scene where Robin showed Scar how to draw a bow. I imagined Scarlet as a strong character with brilliant fighting skills. I imagined a little romance but most of the book focusing on the conflict of how to defeat the theif taker while Scarlet's past was slowly revealed.
This book focused a huge amount of time on romance of a love triangle between Scarlet, John and Robin. My ideal love triangel, that I admire are ones containing the two rival lovers on equal playing fields and the one they are fighting over is in love with both boys. This book did not contain that type of love triangle so the postition of the love triangle was one think I did not like. I'm sure if you enjoy love triangles where the girl is obviously loves one guy over the over the other (or vice versa if the rivals are both girls) then you will like that part of the plot.
I loved Robin's and Scarlet's relationship because I enjoyed the romantic tensiosn between them. They were struggling with denying their love because of how tragic their lives turned out to be. One of my favorite scenes is where a mother figure to Scarlet, Lena, mentions the undeniable love between them. I just wish that John love for Scarlet was never put in the story. This book would have been almost perfect if John just liked Scarlet as a friend.
Now that I explained why this book is not one of my favorites, I am going to say why I thought this was an amazing debut.
Gaughen chose put her story in the delightful and realitic setting of medival europe during the fantastic legond of Robin Hood. I have not found many books set during that legend so I thank Gaughen for choosing to use one of my favorite stories. I also liked the authentic writing style of both dialogue and Scarlet's personal thoughts. There is so much colloquial language in this book that caused me to feel like I was really a part of medival Europe. Every speach Guy preached was formidablely written. Gaughen certainly has a talent in writing.
I also appreciated how the fighting scenes were well thought out and exciting. There were so many huge fights in thsi book and each one was unique. Scarlet's talent of knives is shown vividly and I loved how the last fighting scene included more than Robin's band fighting. When the band fought, they fumbled a little. I like how they were not invincible.
Even though I predicted what happen in London between Scarlet and her sister Joanna, I enjoyed how steadily the stroy was woven into the main plot.
In all, I enjoyed this book but I am not going to rush to read this book again. This book is perfect if you enjoy a book centered on romance.