What makes today different from ever other day?
It is the first day (of hopefully many more) my favorite YA Book Crush is competing in the YA Sisterhoods Crush Tourney! His name is Adrian Ivashkov.
Update July 17th- Adrian Won!!!!!!!!!!!!!!
Vote Here: http://ya-sisterhood.blogspot.ca/2012/07/match-9-adrian-2-vs-cricket-31.html
Today I am aiding to support Adrian's Advocate: The wonderful Anna Tee @ Bursting Bookshelf!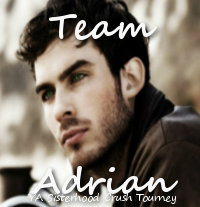 Why you should vote for Adrian Ivashkov as well is because there is not character at all like Adrian. He is special. He is charismatic, caring, loyal, handsome, determined to succeed, surprising, hilarious, unforgettable and brilliant. He is an amazing friend, heartwarming boyfriend and an independent artist. Someday, I would love to read about an art gallery event that all the wonderful Vampire Academy and Bloodlines characters come together to appreciate Adrian's art.
My favorite Adrian quote!
"The greatest changes in history have come because people were able to shake off what others told them to do." -
Adrian in Bloodlines by Richelle Mead
Overall, you should vote for Adrian Ivashkov because he is a complex character that is constantly changing. Every book he is in he has brought something new and wonderful to the table. I cannot wait to see what Adrian brings in the future Bloodline books.
Like Adrian said in Blood Promise by Richelle Mead "
I'm like a fine wine. I get better with age. The best is yet to come."
So, what are you waiting for? Vote for Adrian now, please!!!!!